HEED's Professor Elena Gaura on panel: 'Refugees and Technology' at Chatham House, October 3rd 2019
On Tuesday, 3rd of October 2019, Chatham House, under the direction of Owen Grafham from the Moving Energy Initiative, invited HEED project's co-investigator, Professor Elena Gaura, to be part of a panel discussion on 'Refugees and Technology'. On the panel, alongside Elena, were Jenny Casswell, from Mobile for Humanitarian Innovation, GSMA, and Moulid Hujale, Humanitarian Journalist and Digital Producer.
The panel addressed how refugees are informing technological innovations that reflect lived practices and ways to develop best practice to safeguard refugees when using technology, such as algorithmic bias, violations of privacy and data breaches. Elena, along with the other panellists, also emphasised how important it is to give refugees a platform to engage with and understand new technology that improves energy sources as it assists with community cohesion and develops livelihood opportunities.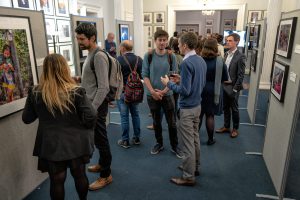 Drawing on his extensive knowledge of energy and international development, Edoardo uses photoreportage as a way to record the impact of development programmes in the lives of the displaced. His photos have been published in various editions of the Poor People Energy Outlook and used in numerous humanitarian publications, workshops and conferences worldwide.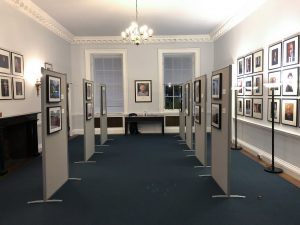 After opening the exhibition with a reflection on the photos by Edoardo, attendees had an opportunity to talk with HEED team members about the project aims and objectives. HEED, in commissioning Edoardo to produce a visual storytelling of the project, hopes to encourage other research studies to think creatively about how to capture the ways refugees and displaced communities encounter energy and respond to energy initiatives.
 Showcasing HEED at EPSRC 'Engineering Research for Grand Challenges', London 17th September 2019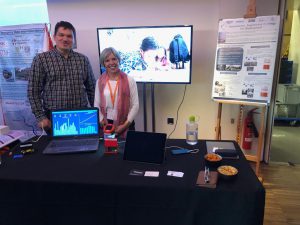 As one of sixteen EPSRC projects that showcased at the EPSRC 'Engineering Research for Grand Challenges,' HEED  spoke with future engineers about the role engineering and digital technology has in planning for the energy needs and aspirations in the displaced context.
The stand, hosted by team members from Coventry University, Professor Elena Gaura and Dr Nandor Verba, was visited by a range of interested parties, including engineers, researchers, innovators, entrepreneurs and policymakers, to hear about the HEED energy design interventions, such as cookstove monitors and solar street lighting.
Elena and Nandor were impressed by the responses to the aims of the project and hope that this will encourage greater investment to address energy poverty, one of the most urgent global societal challenges.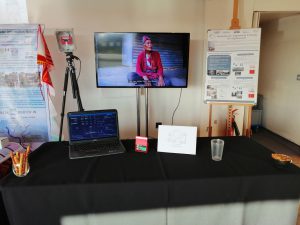 The event, which took place on the 17th Sept, was held at the Southbank Centre, London, as part of The Global Grand Challenges Summit, a jointly hosted event by UK, US, and Chinese academies of Engineering.
Humanitarian Energy Conference 
31st July- 1st August, Addis Ababa, Ethiopia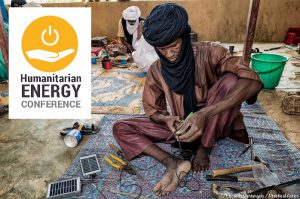 Humanitarian Energy Conference (HEC) is an annual global event, overseen by Safe Access to Fuel and Energy (SAFE) Humanitarian Working Group and the Global Plan of Action for Sustainable Energy Solutions in Situations of Displacement (GPA). Hosted by the Clean Cooking Alliance and the UN Institute for Training and Research (UNITAR), it has support from the Norwegian Agency for Development Cooperation (Norad), Shell International, and the IKEA Foundation. The aim of the conference is to bring together humanitarian agencies, NGOs, development organizations, private companies, governments, funding entities, and researchers on a global level to work together to improve energy access for displaced and crisis-affected people. 
The HEED project was granted a presentation slot during a side event as part of the HEC conference. The speakers at this presentation were Sandy Robinson (Scene), Melania Tarquino and Sarah Rosenberg-Jansen (Practical Action) and Paul Quigley (Independent Humanitarian Energy consultant).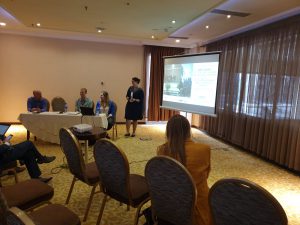 Melania Tarquino, from Practical Action, said:
'Despite a late time slot, we had a full room and an enthusiastic audience (around 30 attendants), and the event ran for an hour. Half of it was our presentation (including a background to the HEED project, components and interventions; a brief on the usability of the RERT tool, and a short discussion on the complexity of the decision-making processes for the humanitarian sector). The other half was a critical discussion with the audience, when they asked questions about the project and tool and gave us feedback. 
The conference itself was very interesting, and the attendants especially enjoyed the networking and experiences exchange with other practitioners that work in similar contexts. Despite exchanging with many people, we could not find any other implemented project working on communal access to energy as ours, or at least not off-grid. 
Hence, many people were interested in knowing about our experience, for example to keep the security of the systems and to create awareness in the community. This means that many of the positive and negative lessons that we will have learnt at the end of HEED will be really valuable for the sector, since it is clearly an innovative project.'
SAFE Workshop
29th -30th July 2019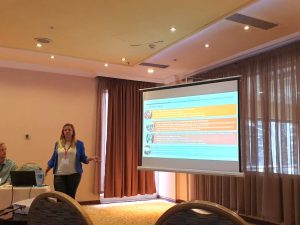 In addition to the Main Conference, Melania also participated at the SAFE workshop, which happened at the same place on the 29th and 30th July. This space was tailored to Humanitarian Energy practitioners to receive training and exchange experiences, which was extremely relevant for the HEED project, covering most of its phases and the challenges associated to each of them.