'Down the Rabbit Hole': Co-design and Humanitarian Energy
Blogs
In this opinion piece Benjamin L. Robinson takes a critical look at how sector-leading organisations, and individuals, champion co-design in their work across the humanitarian sector and asks what more can be done.
This blog links to webinar 'Moving from the Global to the Local: Co-Design in Humanitarian Energy', one of three in our "People, Policy and Innovation: Humanitarian Energy from Theory to Practice" webinar series. This webinar explores state-of-the-art concepts of co-creation in the humanitarian energy context through the voices of sector experts to reflect on ways to champion inclusivity, exploring what co-creating energy programs mean in reality, and understanding how academics, practitioners and policymakers can embed the voices of the displaced directly into their humanitarian programming. The webinar goes beyond a high-level dialogue of the conceptual tools to tackle these concepts with real-world applications and tangible actions that take the humanitarian sector one step closer to actively addressing the needs of the displaced.
'Down the Rabbit Hole': Co-design and Humanitarian Energy
In my academic career so far, I have tried to establish myself as someone who challenges the existing status quo – this article is no different. These are my own uncensored thoughts on a rapidly emerging research sector right at the cutting edge of technological and societal change. These views are wholly my own and may not represent the views of the Humanitarian Engineering and Energy for Development (HEED) Project.
There is an undeniable truth seeping into all parts of our global society, at this current moment not only are we fighting back against the deadliest Coronavirus pandemic ever seen by humanity we are also doing it at a time where there are more people forced to flee their homes than ever before – conflict, persecution, climate change, natural disasters, destabilising governments, failed nations all contribute to the single largest period of migration. Of. All. Time.
As an example: in May 2021 the humanitarian response requirements grew by USD 324 million with 238 million people in need (OCHA, 2021).
Another example: in 2010 there were 41.1 million forcibly displaced people, in 2019 there were 68.5 million, at the beginning of 2020 over 80 million (UNHCR, 2019).
A critical part of the Humanitarian response is Energy. Cooking, cooling, lighting, heating and mobility all form essential elements of living with dignity for everyone in the global north – so why have forcibly displaced people been left behind in this aspect of the energy agenda? Over 80% of displaced people living in refugee camps cook over an open fire and over 90% do not have access to electricity (Lahn and Grafham, 2015). Additionally, in 2017 UNHCR spent $1.2 billion on polluting and non-renewable diesel, petrol and associated costs such as fixing generators (Lahn and Grafham, 2015). Well, I hear you say, "it's because refugee camps are temporary". Well, I respond, "that's not true". On average a person spends more than five years in a refugee camp (Rosenberg-Jansen, 2018), many camps are over 10 years old and some are over 70 years old (Devictor, 2019). So why can't the humanitarian response community seem to work it out? And what does this all have to do with co-design? In fact, what even is co-design? And how do we define it?
Unfortunately, this article isn't going to answer any of these questions as, perhaps, they are "unanswerable". But what I shall do is provide the framing through a carefully constructed Alice in Wonderland metaphor – prepare for an unexpected adventure into humanitarian energy.
Humanitarian energy is in the process of establishing itself as one of the fastest growing elements of humanitarian response in an effort to achieve SDG7 by 2030. Academics, humanitarian agencies and private sector organisations are all starting to recognise the importance and invest in providing modern, reliable and sustainable energy services for forcibly displaced people. In a sector focussed on the most vulnerable people on our planet questions of ethics, responsibility, knowledge sharing, equality rise to the top fast – our sectors' response is co-design, asking questions of how the humanitarian response can be shaped by the displaced people themselves. Logical, yes, easy, no. Unfortunately, this reactionary rather than coordinated proactive approach has resulted in a myriad of theories, typologies, methodologies, guidelines and in some cases tokenistic measures to fulfil the needs of far-far-away funders.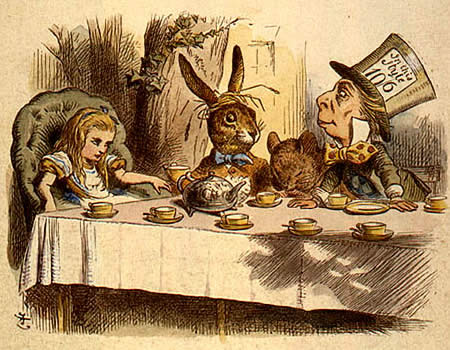 We are quite literally at a mad-hatters tea party of co-design, or is it co-creation, participation, inclusion, or co-production?
My first impression of this is that we are all blindly sitting at the humanitarian energy mad-hatters table trying to make sense of theories and typologies that do not need aligning but recognising that the gold standard we all chase is not a reality worth perusing. Should we be considering what is best for the forcibly displaced people or should they be the protagonists of their own stories? I am a firm believer of the latter. Strategy across all humanitarian response should be shaped by the response context and the capacity of the displaced people. But if that's what we all believe then why do technocrats, social scientists, funders, practitioners, academics and all other key actors argue over differences between co-design, when in fact we all sit at the same table?
Yet, do we sit at the same table or does the International Development sector have theirs, and the policymakers, and the practitioners, and the academics. Some preach gospel of Hare, some Hatter, and some Dormouse but in the end, we are all working our way towards the queen's croquet ground (sticking with the metaphor but losing the imperialism).
It does often feel as if, right back at the beginning, we all just picked up the UN[1] mandated bottle that says "Drink Me" without question, then the room becomes so large and disruptive voices so small that the people who try to change the systemic issues across the Humanitarian, and broader International Sectors, are just lead by a rabbit through a magical forest labelled, "funders rule here". The core question in my mind that flows under all co-design discourse is, how to give (for free, that means no strings or conditions) power to forcibly displaced people. And I mean real power, not inputs into a survey or participants in a program or customers of a service, but how do forcibly displaced people control, shape, manage and decide their aspirational energy futures. How do we give forcibly displaced people the control of a multi-billion-dollar industry coordinated in half a world away from the epicentres of displacement?  Right now, if we want forcibly displaced people to be the protagonists of their own story the humanitarian sector is the antagonist. Be Alice, not the Queen of Hearts.
But not all is lost, some are waking up from the dream.
[1] Other major humanitarian agencies are available.
Benjamin L. Robinson is a Research Fellow at the Centre for Computational Science and Mathematical Modelling, Coventry University. As a multi-disciplinary socio-technical researcher engaged with critical elements of the energy transition in the Humanitarian and wider International Development sectors, Ben is focussed on dismantling existing power structures to enable the forcibly displaced, and other low-income, people to be protagonists of their own stories.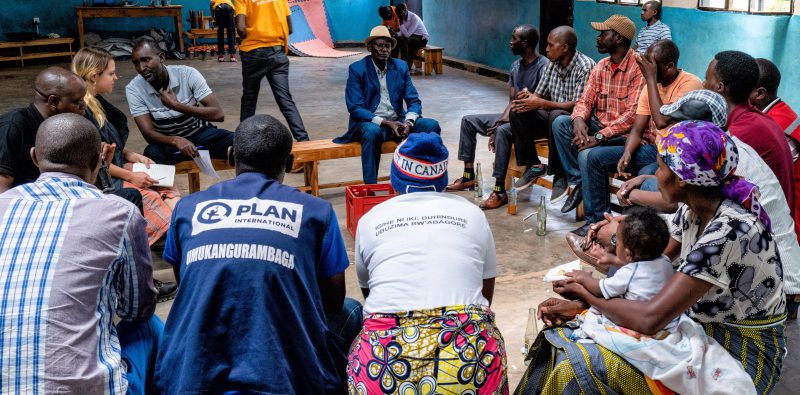 Back to Outputs & publications page