Vijay Bhopal and Sandy Robinson,  Scene Connect

Published 21/5/2020
"The aim of this project is to design, implement and monitor pilots of low-carbon based energy solutions with sustainable business models to increase energy security, reduce environmental impact, and improve economic and health indicators for refugee households in Rwanda and Nepal."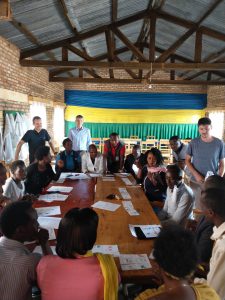 At the outset of the HEED project, we intended to explore if we could design and implement techno-economic models that enabled ongoing, i.e. sustainable, clean energy provision in refugee camps and other displacement settings, for example for those who are internally displaced.
The project consortium has been on a journey of discovery over the past 30 months with the aim of thinking differently about sustainable energy solutions in displacement settings.
Working Towards A Sustainable Business Model
Firstly, what is a sustainable business model? To us, that's simply a model, which is viable for the vendor, affordable for the customer and enables aftersales support and maintenance of the product. Off-grid solar has shown that in many contexts, it is sustainable to sell solar power systems and appliances on a pay-as-you-go basis, using remote monitoring and mobile money to reduce operational and transaction costs. Delivering energy solutions, whether that be a solar-powered micro-grid, home-systems or solar streetlights, with a sustainable business model based on a social-technical framework, is therefore doable.
But the ability to do business – whether sustainable or not – relies on a customer's ability to pay, willingness to pay and product availability. We're often surprised at the prices that are being charged in the African off-grid energy market, many hundreds of US$ for a standard solar home system (South Asian prices tend to be much lower, for example) -. Therefore, common sense asks, in this context, what is the range of abilities to pay for goods and services? This can have profound repercussions on how and who can and should be seeking to deliver energy services. The following rules of thumb set by the International Institute for Environment and Development (IIED) is several years old, and whilst very simple, is still relevant in terms of a financial approach to developing affordable, sustainable energy systems.
Table 1- Public and roles in financing off-grid energy. (IIED, 2014, Public and private sector roles in financing pro-poor energy access)
Segment
Public/Private Roles in Financing
Low Income

US $3-5/day

Strategy: Commercial or cost-recovery approach

End Users: Likely to have phones and TVs. Likely to desire or have some grid connectivity

Energy Enterprises: Dependence on grants over market sales of lanterns and SHSs etc.

Subsistence

US $1-3/day

Strategy: Cost-recovery approach

End Users: Owners of basic consumer goods. Largely lacking access to credit, aside from government-backed schemes.

Energy Enterprises: User group targeted by social enterprises that seek to deliver a social good and break even.

Extreme Poverty

US <$1/day

'Bottom Billion'

Strategy: Non-profit approach

End Users: Precarious financial existence and large informal economy. Users are unlikely to benefit from private sector energy access initiatives.
The HEED Experience
In Kigeme refugee camp in Rwanda, the focus of much of HEED's work, the project has set up a micro-grid that provides power to three community spaces in the camp. The long-term aim was to co-design energy interventions to meet the needs of the user as much as possible, and gradually implement a financial model which will eventually be taken over by the camp committees, along with the micro-grid itself. In another Rwandan refugee camp, Nyabiheke, a stand-alone solar and storage system powers a large semi-enclosed community hall.
During the bedding-in period of the projects, as we got to know more and more about the site context, the size of the task of designing a viable business model around the grid began to dawn on us. The major issues being:
Ability to Pay: looking at Table 1, we were certainly predominantly working with people in the lower two-thirds. Creating any kind of sustainable business model requires the energy provision to give economic value to people.
Communal Space: we were dealing with energy provision for communal spaces. Places around which there are pre-existing institutional arrangements, rules and norms.
Energy Demand: was very low and rising from a standing start.
Approaching Sustainable Design
As with the installation of a new source of energy, such as the micro-grid, that initial energy demand is low. System oversizing is one part of ensuring future demand is met, whilst maximising impacts. Optimisation of energy use is expected alongside an increasing sense of ownership and improved system management.
Complications are to be expected. For this project, they included arrangements around overseeing the usage of the new assets, the complexity of sharing of communal space and managing a potential increase in interest in using that space. Indeed, we have seen a slow but steady increase in demand over the weeks. You can see this for yourself via the project's Data Portal.
What did catch us somewhat off-guard*, however, is the simple things that the community brought to our attention that would help them to best utilise the electricity supply. In the energy access sector, one is used to hearing the message that energy, in and of itself, is no silver bullet for development. Of course, that makes total sense: energy can drive economic activity through light or power but it also adds an additional cost burden to a user – which ideally can be offset.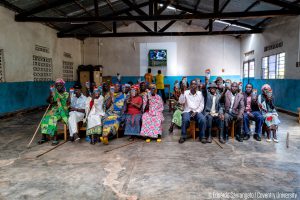 So, what about in Kigeme? Our aim here was to spur on educational activities through powering nursery schools and a playground. The energy enabled the use of digital tools for teaching, but where were the projector and the TV screens? And would we sufficiently able to navigate the pre-existing institutional arrangements?
Meanwhile, in Nyabiheke we aimed to provide energy for increased social activities. The new source of energy allowed for night-time socials of all shapes and sizes, but where were the chairs to enable a comfortable environment, and had we made it clear that people could bring their own speakers to blast out some good music?
Both places lacked the parts of the supporting infrastructure to enable better utilisation of the new energy source.
Increasing energy demand requires an environment in which utilisation of the supply makes sense consistently. Someone in Nyabiheke might go to the hall for the novelty of night-time light a couple of times, but ultimately, they need more than light to utilise the hall as a useful community space. Understanding and implementing this consistency requires diverse use options – from mobile phone charging to supporting community events – as well as enablement of the community wants and needs, such as the provision of energy to local business.
Even with the best design possible, as the Moving Energy Initiative notes, energy interventions requires trialling, feedback and improvement to function optimally and in a way that suits local users' current and future needs.
What can be learnt from the HEED Project?
Over time, the project has begun to fill in some of the supporting infrastructures that people need to increase their demand. Opportunities for charging for power have emerged, and options are emerging around the use of productive electricity for small shops and machinery. Perhaps opportunities will also arise around the use of the micro-grid's buildings for non-educational activities, as Kigeme has already been used as a venue for local weddings.
Whatever the case, all income that can be derived looks fairly small against the true cost of these solar + storage projects. Therefore, we've focused our sights on what level of sustainability is attainable.
It's inevitable that a high degree of infrastructure investment is required to deliver useful energy systems, which are unlikely to be recouped in the refugee context.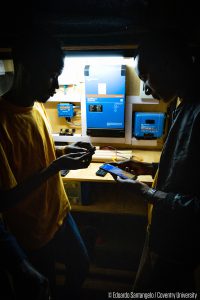 Thus, if we're able to work towards creating revenues which can support the maintenance of energy interventions we'll be happy. This middle ground may give the best shot for energy projects longevity, whilst encouraging the local innovation and entrepreneurship.
Humanitarian settings are not necessarily ripe for business, but that doesn't mean to say that instituting a fee for energy service model is wrong. Our takeaway from the workshops we conducted in energy interventions that operate on a full cost-recovery business model is a poor fit in a refugee setting, and it remains to be seen whether a model that covers operating and maintenance costs is attainable. That is what we're striving for, however, and for the project and the people of Kigeme and Nyabiheke that would be a great success.
It is also important not to disregard the non-economic legacies that research projects on techno-social energy interventions can have if well managed and long-lasting. Improved local understanding of energy as well as technical and management capacity may result in future projects – both energy and non-energy related – being implemented by camp authorities and residents. In this sense, the high initial implementation costs may yet deliver value.
*We can't talk on behalf of the whole team of ~15 people, some with extensive experience in the Rwanda refugee camp context