UNHCR, the UN Refugee Agency, is hosting the first Global Refugee Forum on 17 and 18 December 2019 in Geneva, Switzerland. The event, which is being held at Ministerial level, brings together countries to strengthen international responses by focusing on six areas: arrangements for burden and responsibility-sharing, education, jobs and livelihoods, energy and infrastructure, solutions, and protection capacity.
The forum is part of the implementation of the Global Compact on Refugees, agreed by the UN General Assembly in December 2018. The driving principles of the Global Compact on Refugees is to find ways of improving global responses to refugee situations. This will include greater support for the countries and communities who are welcoming refugees and simultaneously, delivering programmes that improve conditions and generate pathways to encourage refugee self-reliance.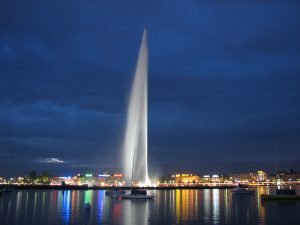 Related events will be held ahead of the Forum in Geneva, including the spectacular lighting of the city's iconic Jet d'Eau and an exhibition of crafts by MADE51 – an initiative bringing beautiful refugee-made products to a global market.
If you have questions, please contact the Global Refugee Forum Coordination Team at hqgrf@unhcr.org.
The jet d'eau water fountain in Lake Geneva, Switzerland