Design for Displacement (D4D)
Purpose and Aims

Funded by the UK's Engineering and Physical Sciences Research Council (EPSRC), the HEED project is an innovative response to growing recognition of the need to improve access to energy, particularly from renewable energy sources, for populations displaced by conflict and natural disasters. The project focuses on the lived experiences of Congolese refugees living for protracted periods of time in three refugee camps in Rwanda (Nyabiheke, Gihembe and Kigeme) and people displaced in Nepal as a result of the 2015 earthquake. Our research draws upon social science and engineering expertise to better understand energy needs and identify solutions, which produce socio-technical systems that encourage community resilience and capacity building.
We have been working with our partners in Rwanda and Nepal for the past 12 months and are now ready to showcase a series of potential design interventions that will be rolled out in all or some of the selected camps starting in January 2019 at a series of three D4D workshops.

D4D Workshop, 4th and 5th September 2018,  Kigali, Rwanda.

After a series of field trips meeting with MIDIMAR, UNCHR, NGO's and the refugees themselves, Professor Elena Gaura and Professor Heaven Crawley, along with other members of the HEED project, presented potential energy intervention designs at the first 'Design for Displacement' (D4D) workshop at Kigali, Rwanda.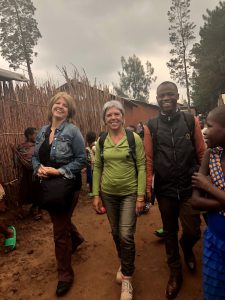 This workshop, held on the 4th and 5th September,
informed a wide range of stakeholders  with an interest in energy and displacement, about the aims and objectives of the HEED project and its relationship to other policy initiatives.
It gave members of the team an opportunity to discuss with stakeholders the role of engineering in developing improvements to the efficiency and sustainability of energy interventions, with particular reference to HEED's interventions in Rwanda.

    The workshop was also instrumental in giving the HEED project team and key policy and practice stakeholders and energy providers opportunity to develop an 'Energy for Displacement Protocol' which will address key issues including energy needs and aspirations, community ownership and sustainability.
Heaven, Elena and Jean-Claude Nshimiyimana (Practical Action) visiting the field.
D4D Workshop, 2nd October 2018, Coventry Technology Park, Coventry, UK
On Tuesday the 2nd of October HEED hosted its third and final Design for Displacement (D4D) workshop at Coventry University. Leading the workshop was Professor Heaven Crawley, who gave an overview of the HEED project and how it is shaping ways in which energy interventions in contexts of displacement are understood. In discussing how HEED is a research project rather than an energy delivery project, Heaven advocated for greater emphasis on data collection and analysis that help policy makers, NGO's and governments provide solutions that meet the needs and aspirations of refugees and displaced people.
Building upon Heaven's contention for more investment in producing evidence based energy policies and protocols in the displaced context, Glada Lahn from Chatham House, presented 'what we know and what we don't know' about energy for displaced populations.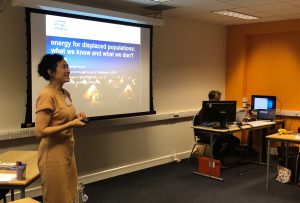 Glada identified several key concerns when providing energy to camps: high cost, limited reliable data, increasing demand but she also showed the opportunities afforded if energy needs were meet. In campaigning for systemic changes in how energy is supplied to displaced settings, Glada opened up space for the workshop delegates to discuss the role that research has in offering improved understanding on how to provide appropriate, cost effective, renewable energy options to refugees. 
To illustrate how HEED is creating synergy between energy needs and the supply chain in the refugee context, Dr Jonathan Nixon from the HEED project, along with Professor Elena Guara and Tomasz Prabucki, demonstrated a series of potential design interventions that will be implemented in all or some of the selected camps starting in January 2019. This presentation provided information about the role of engineering and IoT in producing evidence based claims that can substantiate improvements to the efficiency and sustainability of energy interventions. There was also a chance for workshop delegates to be hands-on, under the direction of Tomasz, who showed them the protypes and how data outputs would be collected from Nepal and Rwanda. 
This lead into a vibrant question and answers session, which finished with Dr Thomas Yeboah asking the delegates to consider an 'Energy for Displacement Protocol' that acknowledged the energy needs and aspirations of displaced people, encouraged community ownership and sought affordable sustainable solutions.
The HEED project would like to thank all that attended and contributed to making this workshop a lively and informative occasion and look forward to maintaining relationships and strengthen networks in the near future.
Summer Schools
With support from the UK Engineering and Physical Sciences Research Council (EPSRC), the HEED project is involved in delivering a series of summer schools aimed at MSc and PhD students, early career lecturers and researchers that have a background in engineering, computer sciences and social sciences in Nepal and Rwanda. Led by researchers based at Coventry University, UK the summer school provides an opportunity for  participants to develop their research skills, present and receive feedback on their own projects and form networks with other researchers in their field.
Softwarica College, Kathmandu, Nepal. 
March 2018
March 2018 saw the first summer school at Softwarica College, Kathmandu  and was a resounding success with over 34 attendees from Nepal affiliated to 13 institutes attending a three day series of lectures, practical based exercises and peer lead presentations. 
Bougainvilla Events, Tirpureshwor, Nepal.
On 22nd September 2018 Vijay Bhopal and Jelte Harnmeijer, from our project partners Scene, working in partnership with a local innovation hub, Bikas Udhyami held a Summer School in Tirpureshwor, Nepal. The event was attended by more than 80 people, a mixture of academics, entrepreneurs and practitioners.
The Summer School provided an opportunity for the HEED project to engage the next generation of IoT entrepreneurs and academics in addressing energy poverty.
The event began with a presentation by Vijay on how the use of new technologies and IoT to deliver energy services can develop robust, sustainable models that are able to meet the demands of both host and displaced communities. Vijay's presentation was followed by lively panel discussions, which created space for community led conversations on how to use IoT to develop the Nepalese private and public sector in the fields of energy, health and agriculture. One key theme that emerged from these panels was the way that IoT can support new projects by substantiating market demand by data collection.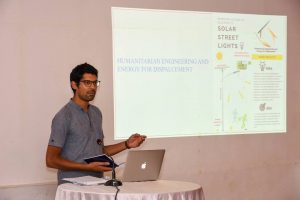 By using the example of the HEED solar lighting project, Vijay explained how monitoring usage can identify whether the lanterns which are designed to be mobile and actually used in this way or are used to provide static light, a purpose for which they are not designed. This allows data to show how to improve energy design and in doing so increase the demand for a product.
By providing exhibition space, the Summer School, created a platform for IoT businesses to network with one another. In addition, Mr. Madhav Dungel, Vice-Chair of National Youth Council in giving his key note speech, advocated for improved data collection, open data and greater investment in digitisation to develop a digital infrastructure for the future.
The HEED project would like to thank Vijay, Jelte and Bikas Udhyami, especially Mahima Poudal, for delivering such a successful and informative event that encourages conversations on how IoT can be utilised by social impact businesses.